Entry / Exit - Doors & Times
Entry / Exit - Doors & Times
20 August 2020 (by admin)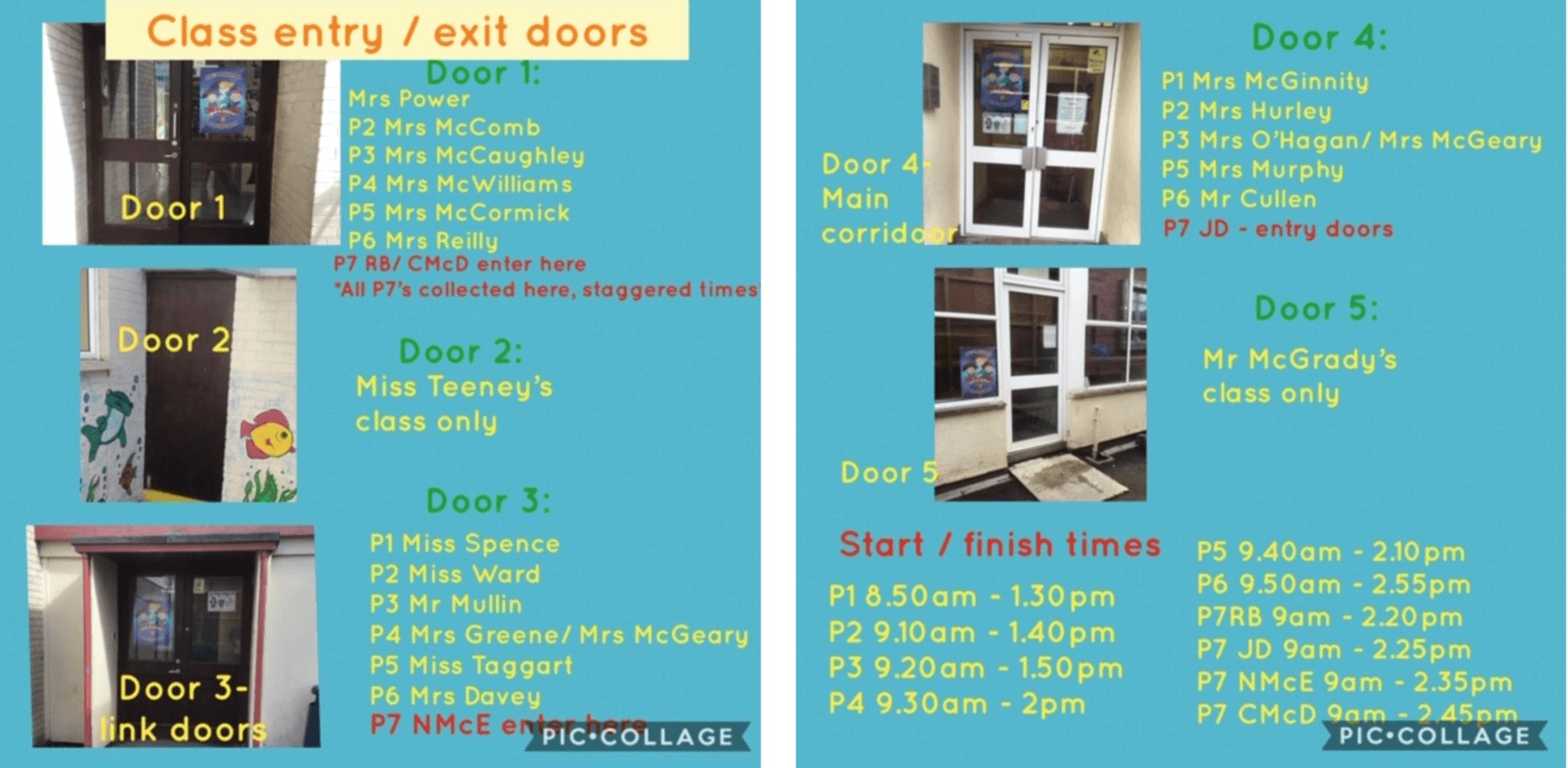 First doors: on the left beside green back gates: P2 doors
Second door: Miss Teeney's fire door is on right of the P2 doors
Third doors: on the left: Link corridor doors
Fourth doors: on the left: Main corridor doors
Fifth door on left: Mr McGrady's fire door

P1 and Mrs Power's class start time 8:50
Pick up 1:30
P1AS link corridor doors, P1KT own class fire door, P1FMcG main corridor doors, Mrs Power's class P2 doors.
P2 start time 9:10
Pick up 1:40
P2GW Link corridor door, P2AmcC P2 doors, P2LH Main corridor doors

P3 start time 9:20
P3 Pick up 1:50
P3CMcC P2 doors , P3POH/SMcG Main corridor doors, P3SM link corridor door

P4 start time 9:30
P4 pick up time 2:00
P4JMcG classroom fire door, P4EG/SMcG link corridor door, P4PMcW P2 doors

P5 start times 9:40
P5 pick up time 2:10
P5SMcC P2 doors, P5FT link corridor doors, P5JMmain corridor doors

P6 start time 9:50
P6 pick up time 2:55
P6RD link corridor doors, P6MC main corridor doors, P6CR P2 doors

P7 and Mr Burke's class Start time 9:00
Start time doors P7CMCD. P2 doors, P7NMcE link corridor doors. P4/7RB P2 doors, P7JD. Main corridor doors
P7 pick up at P2 doors staggered time
2:20 Mr Burke's class , 2:25 P7JD 2:35 P7NMcE. 2:45 P7CMcD

Children will not under any circumstance enter via Reception front doors, so time keeping is imperative. All drop off and pick up from back doors only.
Find out more on the school website - see link below.